What we do
The BBGMP helps businesses secure fixed-rate, flexible use loans of up to $250,000 with nonprofit lenders who have experience working with Nevada small businesses – so you can grow your business farther, faster, your way.
Loans can be spent flexibly on: equipment, payroll, utilities and rent, inventory and supplies, marketing and advertising, building renovations and tenant improvements, and other expenses. There are no origination fees, and no upfront collateral is required – a blanket lien will be taken on business assets to secure a working capital loan of up to $250,000.
Loans will be repaid in 36-, 48-, 60- or 72-month increments at a fixed interest rate. Interest rates for this program currently range between 9.5% - 12.5% depending on the length of the loan. All loans will be given a fixed interest rate on closing so there are no surprises.
* As of July 27, 2023, loans are offered at rates between 9.5% - 12.5%. The program rates will fluctuate with the broader interest rate environment. New rates will go into effect the next business day following a change to the Wall Street Journal Prime rate. The rate on your loan will be the lower of (a) the applicable interest rate at the time you submit your application and (b) the time your loan closes. Once closed, individual loans for each business owner will be fixed for the entire term of the loan.
Who the program is for
The following criteria is the minimum required for a business or nonprofit to be considered eligible for a loan under this program. Eligible applicants must:
Have operated in the state of Nevada for one year or more at the date of application
Make less than $5 million in annual revenue
Employ no more than 100 full-time employees
Your past does not preclude you from applying. Companies run by first-time entrepreneurs, new owners taking over a longstanding small business, and founders who've had a prior business failure are all potentially eligible loan candidates. If you are making a profit now and have plans to keep growing, BBGMP may be right for your business.
How it works
Wherever you are on your business journey, the State of Nevada and its program partners can help. Loan-ready businesses will be matched with nonprofit lenders who have experience working with Nevada small businesses like yours. They'll help you collect required documentation and will distribute loan funds to successful applicants.
Businesses that need additional support becoming loan-ready will be offered one-on-one guidance from the Nevada Small Business Development Center to increase their credit scores, establish financial documentation processes, put plans in place for growth, and find mentorship opportunities, so no one who wants to move forward is left behind. Nonprofits are welcome to apply.
How to apply
Complete a short pre-application questionnaire about your business here
Match with a lender familiar with Nevada small business needs who will outline next steps
Provide the lender's required documentation to submit a full application
Borrower stories
Zain Burke, Validity Construction Services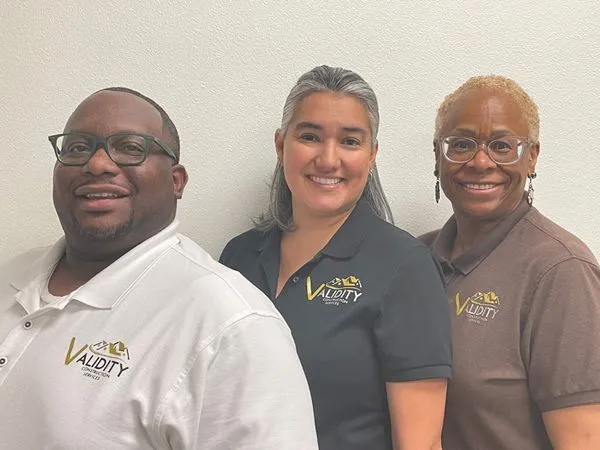 In Las Vegas, a small business owner in the construction industry is using a loan from the Battle Born Growth Microloan Program (BBGMP) to grow his business. Zain Burke, CEO and owner of Validity Construction Services, was in search of a loan to help the business expand into the government sector. After meeting with traditional lenders who "overpromised and underdelivered," Zain was relieved to be referred by a friend to Community Reinvestment Fund, a Community Development Financial Institution (CDFI) who told him about the BBGMP.
"They walked us through every step of the process," Zain said. "They were honest with my team about our chances of getting a loan." Zain and his team were happy with the personal and supportive experience of applying for a BBGMP loan. He is using some of his loan to hire a new estimator who will focus on growing the business. He encourages others who want to apply to get familiar with their business finances and take advantage of the free business support if they don't immediately qualify.
"Know your numbers. If you know you want to grow, just try, and someone will be there to support you every step of the way."
PARTNER ORGANIZATIONS